John Muir and the Environment 
Environmental Justice in the Wake of John Muir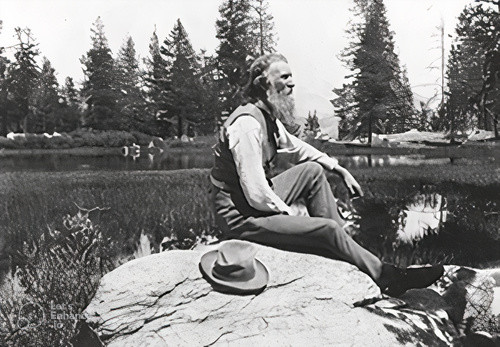 "We have an obligation to address John Muir's problematic legacy, and we have an even greater obligation to environmental justice, Indigenous land relationships, and climate justice, which all intersect with race, gender, sexuality, class, citizenship status, and law."

~ John Muir College
Our namesake had a far-reaching impact and was, among other things, an inventor, writer, explorer, biologist, and botanist. Founder of the Sierra Club, John Muir helped establish our national parks, popularize conservation, and romanticize the concept of unspoiled wilderness.
Muir's legacy also has its problems. Sierra Club leaders during Muir's time advocated for white supremacy, racial purity, Asian exclusion, and forced sterilizations of women based on eugenicist notions of race, class and disability. Their ideas would come to influence the racist ideologies of Nazi leaders. The national park system displaced Indigenous nations and dispossessed them of their lands, recasting their homes as "wilderness", often in violation of treaties that serve as federal and international law. John Muir wrote about Black, Indigenous and poor white people in racist caricatures—although at times with self-reflection. Later in life he admired some Native people albeit through the stereotypical lens of the "noble savage". He continued to support Native American relocation even while arguing against outright genocide.
We live in the wake of John Muir. We have an obligation to address John Muir's problematic legacy, and we have an even greater obligation to environmental justice, Indigenous land relationships, and climate justice, which all intersect with race, gender, sexuality, class, citizenship status, and law. We still believe in the independent spirit—for us, this means that critical thinking and informed action, not dogma, will produce long-overdue solutions for these persistent problems. 
Below is more information on Muir College's commitment to environmental justice, the life of John Muir, and critical debates about his monument.
Below are a few opportunities created by our students, faculty, staff and alumni:
Jim and Julie Lin Environmental Justice in Underserved Communities Award: 

$1,000 award to a student who is passionate about helping underserved communities in the area of environmental justice.

Kumeyaay Futures Award: 

Prestigious recognition for UCSD undergraduates who have built and sustained positive relationships between Kumeyaay and university communities. Created by artists Johnny Bear Contreras and Christy Gomez of San Pasqual Band of Mission Indians.

 
Triton Research Experiential Learning Scholarship: 

$1,000 per quarter, up to 3 quarters, and $5,000 summer scholarships for students to address environmental justice or any other topic of interest.

 
Environmental Studies Program: 

The following classes grapple with the intersections of environmentalism, Indigeneity, race, climate, and justice. Indigenous Approaches to Climate Change, Environmental Law, Blackness and Wilderness, Coastal Ecology, Environmental Law and Federal Policies in American Indian Country, Wilderness and Human Values, Conservation Solutions, Environment and Identity, Introduction to Environmental Studies.

Climate Solutions Collective: 

Learn about climate solutions developed by local leaders from community organizations, student organizations, corporations, government agencies, scientists, entrepreneurs, activists, and tribal nation organizations.

Black Like Water: 

Programs like Black Surf Week, for all students interested in Black relationships to land and water.

Muir College Environmental Fellows: 

Annual award for individuals whose work has contributed sustainability and environmental justice.

Muir College Writing Program: MCWP 40, 50, and 125 classes critically analyze the many forms of racism, ableism, sexism, and exclusionism with topics that focus on anti-Blackness and the environmental movement, Native Americans stereotypes, representations of disability and gender in popular culture and US cultural imperialism.  
Early Life: 
John Muir was born April 21st, 1838, first son and third child to Daniel and Ann (née Gilrye) Muir in Dunbar. His family emigrated to the United States in 1849.
Early Adulthood:
Just before his 23rd birthday, Muir enrolled at the University of Wisconsin, Madison. After five trimesters, he left to spend the last two years of the Civil War in Canada, where he roamed hundreds of miles of untamed forests, studying wildlife, collecting plants, and coming to realize he could survive on his own beyond civilization's reach.
After an industrial accident caused him to become temporarily blinded, Muir pursued his dream of visiting the American South by taking a 1000 mile walk from Indiana to Florida. On his walk, he witnessed the poverty, destruction and despair left in the aftermath of the Civil War.
Malaria and limited access to ships meant he never went further than Cuba, before returning to New York, and eventually traveling to San Francisco
From San Francisco, 29-year-old Muir took his first journey to Yosemite, and began a long period of traveling into and setting up residence in the Sierras. Under the mentorship of friends, Muir began publishing essays and articles detailing his experiences in nature, becoming a sought-after authority on conservation across the country.
Late Life: 
At 42, he married 33-year-old Louisa Wanda (Louie) Strenzel, and settled in Martinez, California. The two eventually raised two daughters: Wanda and Helen.
Muir's conservation efforts contributed greatly toward the establishment of America's national parks: Yellowstone (1872), Yosemite and Sequoia (1890), Mount Rainier (1899), Petrified Forest (1906), and the Grand Canyon (1907).
In late May, 1892, Muir, in partnership with magazine editor and friend, Robert Underwood Johnson, and San Francisco attorney, Warren Olney, filed the articles of incorporation to transform an informal network of hikers and university intellectuals into what has since become America's oldest and largest grassroots environmental organization: the Sierra Club.
Muir served as the Sierra Club's first president until his death in 1914, at age 77.
The following articles are written by Native scholars or feature Native voices: 
Read more: