MUIR COLLEGE UPDATE:
The staff of Muir College are following the guidance of public health officials and engaging in social distancing. Therefore, all meetings are occuring remotely. Our staff can be reached during our regular business hours through the following methods:
Monday - Friday
8:00 am - 12:00 pm and 1:00 pm - 4:30 pm
Live via Zoom
Join us live in the Muir Zoom Room using the Zoom application, where you can chat with a staff member in real time.
Academic Advising
Write in via the Virtual Advising Center, walk-in advising via Zoom (See Zoom Calendar) 
Student Affairs
(858) 534-3587, mdeansoffice@ucsd.edu
Counseling and Psychological Services
(858) 534-3755. Press 2 for Urgent needs after hours. Counseling will be available 24/7.
We thank you for your understanding during these concerning times. 
Welcome to the Muir Family
John Muir College, the second undergraduate college at UCSD, is named after John Muir, the environmentalist, writer, founder of the Sierra Club. While we do not have an academic requirement that students study the environment, we do include environmental issues in the college, Our motto, "celebrating the independent spirit" is inspired by Muir's life, travels, and political activism to change the fabric of the nation.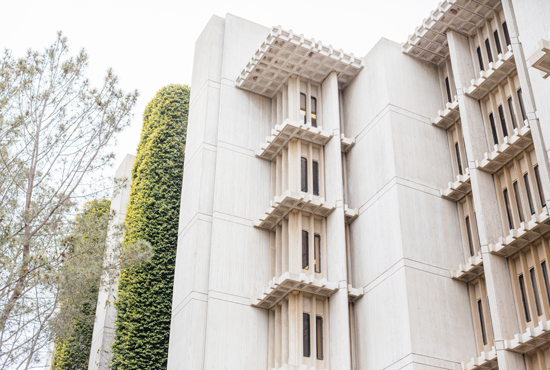 A MESSAGE TO MUIR STUDENTS REGARDING COVID-19
Dear Muirons, Muir staff meet with hundreds of students in our offices every day. To keep risk low, we are keeping physical doors closed, but we are still open for you. Visit us in our virtual Zoom Room, "walk-in" or make an appointment with an Advisor, talk with Residential Life by phone, or video-conference about your paper with Muir Writing. These will be times to remember, stories you will share about your college years. "I was compassionate, caring, and courageous." I trust this will be your story. We have students and staff who are particularly vulnerable to this deadly virus. By slowing down its spread, we are not only protecting ourselves. We are protecting the most vulnerable in our community. - Provost K. Wayne Yang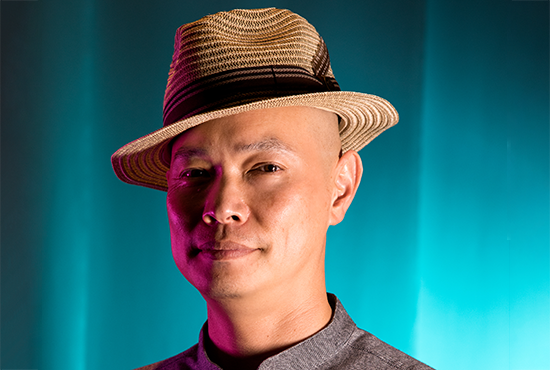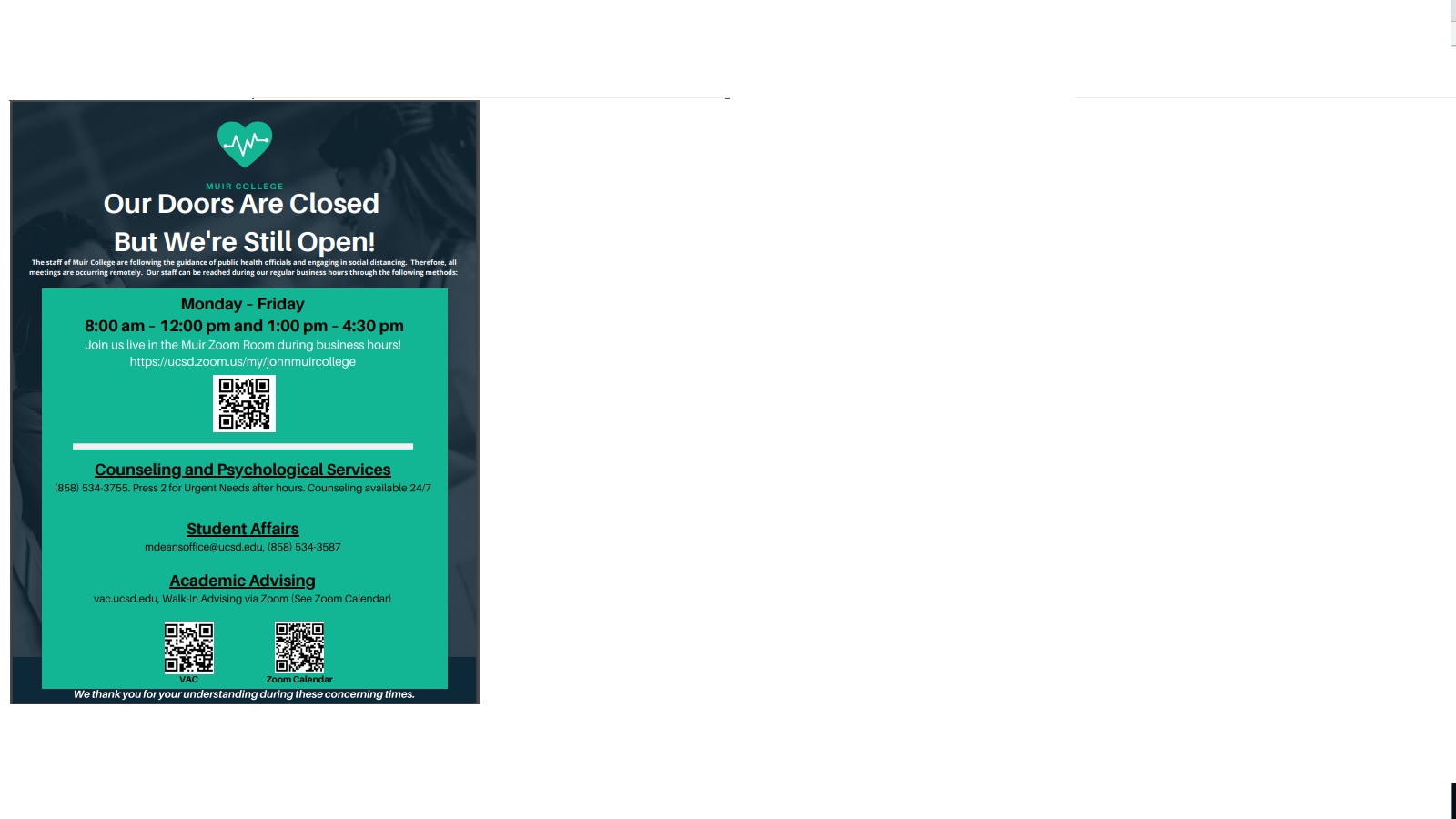 COVID-19 Muir College Office Policy

CORONAVIRUS INFORMATION FOR THE UC SAN DIEGO COMMUNITY
Can I Cancel my Lease Early?
Giving
Muir depends on the generosity of our alumni, parents, and friends to support the activities and programs that have made the college a special place for generations of University of California San Diego students.
Academic Advising
Walk-In Advising
Our team of Academic Advisors help you make decisions, plan classes, navigate campus deadlines and policies, and connect you to student support services.
Resources
Learn more about academic advising resources, deadlines, and academic planning.
Congrats to Muir Class of 2019
Watch the full John Muir College Commencement Ceremony for the graduating class of 2019. This year's Ceremony included speeches from Provost Wayne Yang and graduating student Sinneva Ingrid Stenberg.