Welcome to the Muir Family
John Muir College, the second undergraduate college at UCSD, is named after John Muir, the environmentalist, writer, founder of the Sierra Club. While we do not have an academic requirement that students study the environment, we do include environmental issues in the college, Our motto, "celebrating the independent spirit" is inspired by Muir's life, travels, and political activism to change the fabric of the nation.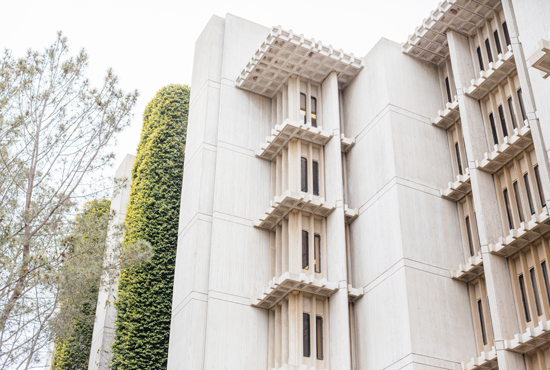 We take a knee
Dear Us,
 Black lives matter. Black lives matter. Black lives matter. George Floyd. Tony McDade. Breonna Taylor. Ahmaud Arbery... It is time we take a knee.

Beloved Black students, here you are, a full time student, finals a week away, preparing for a world that is not ready for your brilliance. George Floyd could be your twin, your brother, father, grandfather, you. Right now you may feel similarly to Black poet Alexis Pauline Gumbs who writes, "The university was not created to save my life... The university does not know how to love me. The university in fact, does not love me. But the universe does." She says, your survival is a promise to your ancestors. In honor of this promise, we take a knee.

Faculty, who made the impossible a reality, moving all instruction to remote. We responded to the COVID-19 pandemic, so we can respond to the deeper pandemic of structural racism. Tony McDade was a transgender Black man who could have been (y)our former or future student. (Y)our current student may be his relative, may be transgender, may be someone who has lost another to antiblack violence. Please let us consider how both pandemics shape our students' realities, as we plan our final exams, assignments, and grading options. We, take a knee.

Staff, who are overworked. Who are working overtime. We do not work for free. We work for freedom. Let us remember the intersectional work of our Black colleagues right now - what Black writer Christina Sharpe calls "wake work". Breonna Taylor was an essential worker, a 26-year old, Black woman, emergency medical technician. We, take a knee.

We, who are non-black. We cannot be bystanders. Whether bystanders in uniform or with academic titles or burdened by student loans. We must speak out against antiblackness. We must give what we can afford to combat antiblackness. We must listen to, follow the lead of, and pick up weight for, our Black kith and kin. We must act every day to interrupt racism. Ahmaud Arbery was slain by people emboldened by the consent of this society that granted immunity to Trayvon Martin's killer. We, take a knee.

Together, we can fight white supremacy. Here are a few ways to begin...

#takeaknee - If we cannot give money, find ways to use (y)our unique gifts to the world to fight antiblackness everyday.
Where to donate to support Black students at UCSD
Where to donate to support Black organizing for health care and for Black lives in San Diego
Where to donate to support protestors and Black folks organizing for Black Lives in Minneapolis:

K. Wayne Yang
Provost, John Muir College

Douglas Easterly
Dean of Academic Advising, John Muir College

Jason Thibodeaux
Dean of Student Affairs, John Muir College

Carrie Wastal
Director of Muir College Writing Program, John Muir College

Sonia Rosado
Acting Associate Dean and Director of Residential Life, John Muir College
muir-college update
The staff of Muir College are following the guidance of public health officials and engaging in social distancing. Therefore, all meetings are occuring remotely. Our staff can be reached during our regular business hours through the following methods:
Monday - Friday
8:00 am - 12:00 pm and 1:00 pm - 4:30 pm
Live via Zoom
Join us live in the Muir Zoom Room using the Zoom application, where you can chat with a staff member in real time.
Academic Advising
Write in via the Virtual Advising Center, walk-in advising via Zoom (See Zoom Calendar) 
Student Affairs
(858) 534-3587, mdeansoffice@ucsd.edu
Counseling and Psychological Services
(858) 534-3755. Press 2 for Urgent needs after hours. Counseling will be available 24/7.
We thank you for your understanding during these concerning times. 
A MESSAGE TO MUIR STUDENTS REGARDING COVID-19
Dear Muirons, Muir staff meet with hundreds of students in our offices every day. To keep risk low, we are keeping physical doors closed, but we are still open for you. Visit us in our virtual Zoom Room, "walk-in" or make an appointment with an Advisor, talk with Residential Life by phone, or video-conference about your paper with Muir Writing. These will be times to remember, stories you will share about your college years. "I was compassionate, caring, and courageous." I trust this will be your story. We have students and staff who are particularly vulnerable to this deadly virus. By slowing down its spread, we are not only protecting ourselves. We are protecting the most vulnerable in our community. - Provost K. Wayne Yang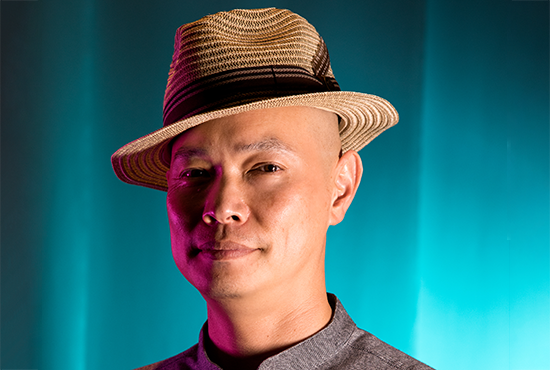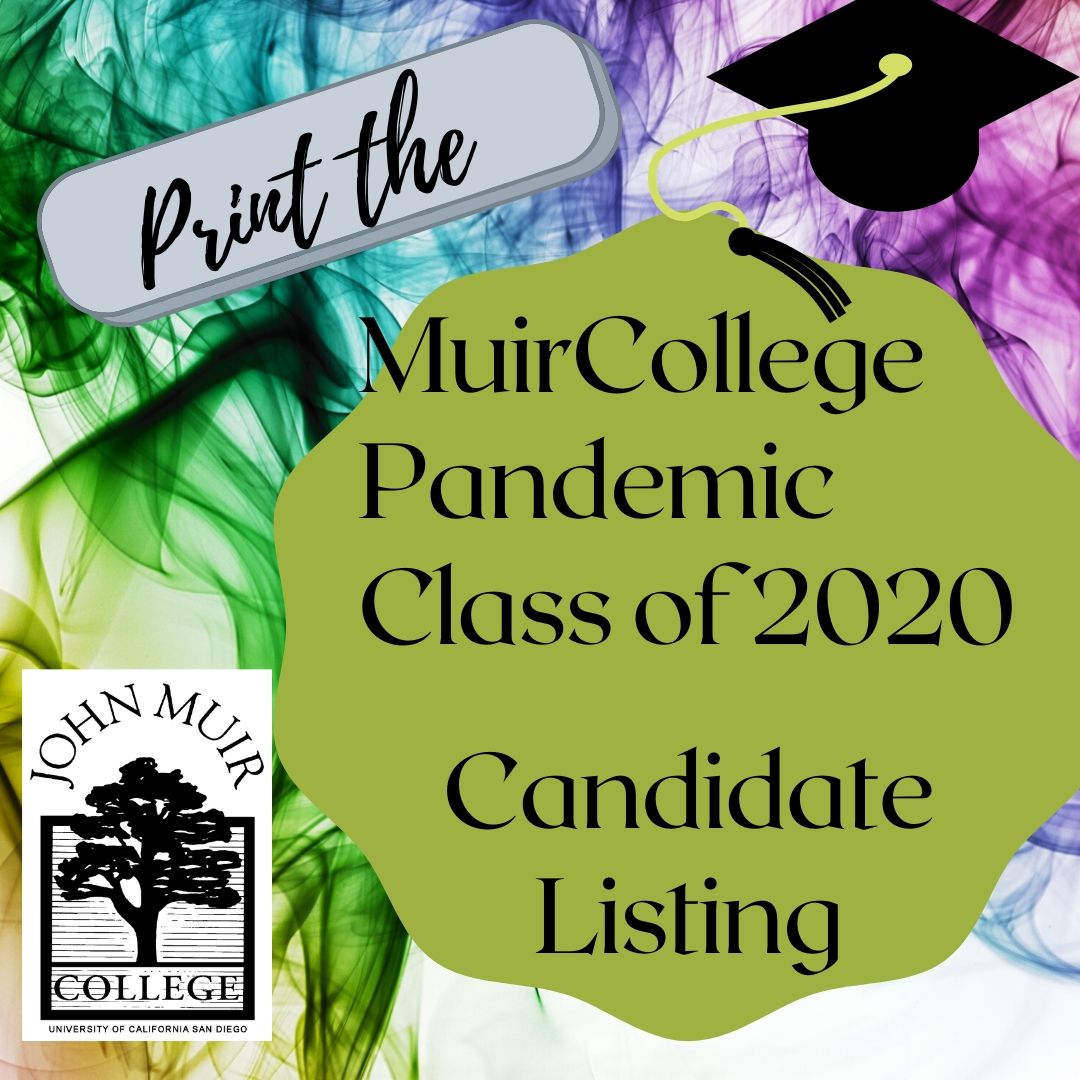 Muir College Candidate Printable

Stream Virtual Commencement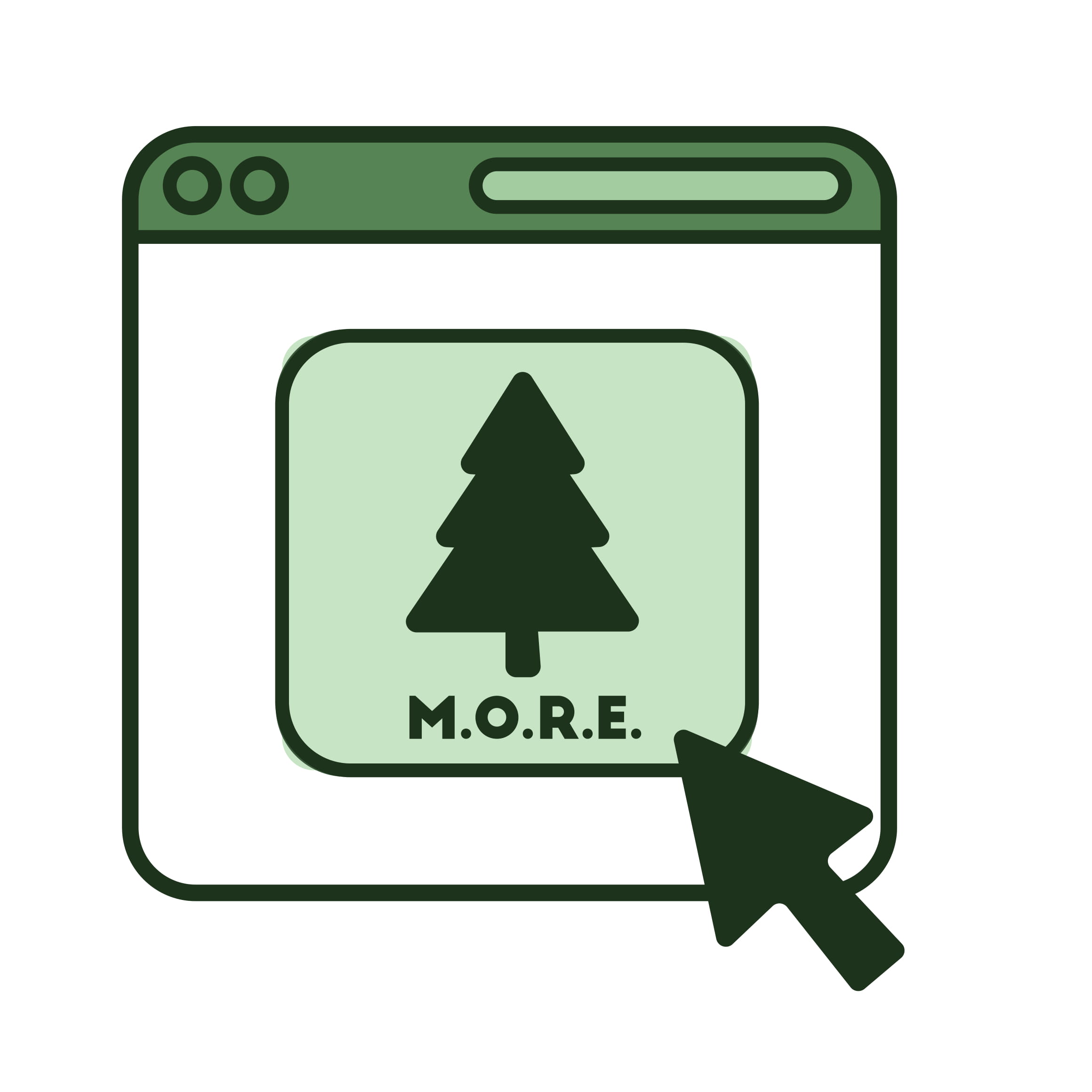 Muir Online & Remote Engagement
Giving
Muir depends on the generosity of our alumni, parents, and friends to support the activities and programs that have made the college a special place for generations of University of California San Diego students.
Academic Advising
Walk-In Advising
Our team of Academic Advisors help you make decisions, plan classes, navigate campus deadlines and policies, and connect you to student support services.
Resources
Learn more about academic advising resources, deadlines, and academic planning.
Congrats to Muir Class of 2020!
Congratulations Class of 2020 on your achievements!