Request to use Sun God Lawn and Usage Agreement
Questions regarding the usage of Sun God Lawn may be directed to the John Muir College via sungodlawn@ucsd.edu
Sun God Lawn is no longer a reserveable space for non-UC San Diego affiliated organizations.  Only UC San Diego departments and student organizations may reserve the lawn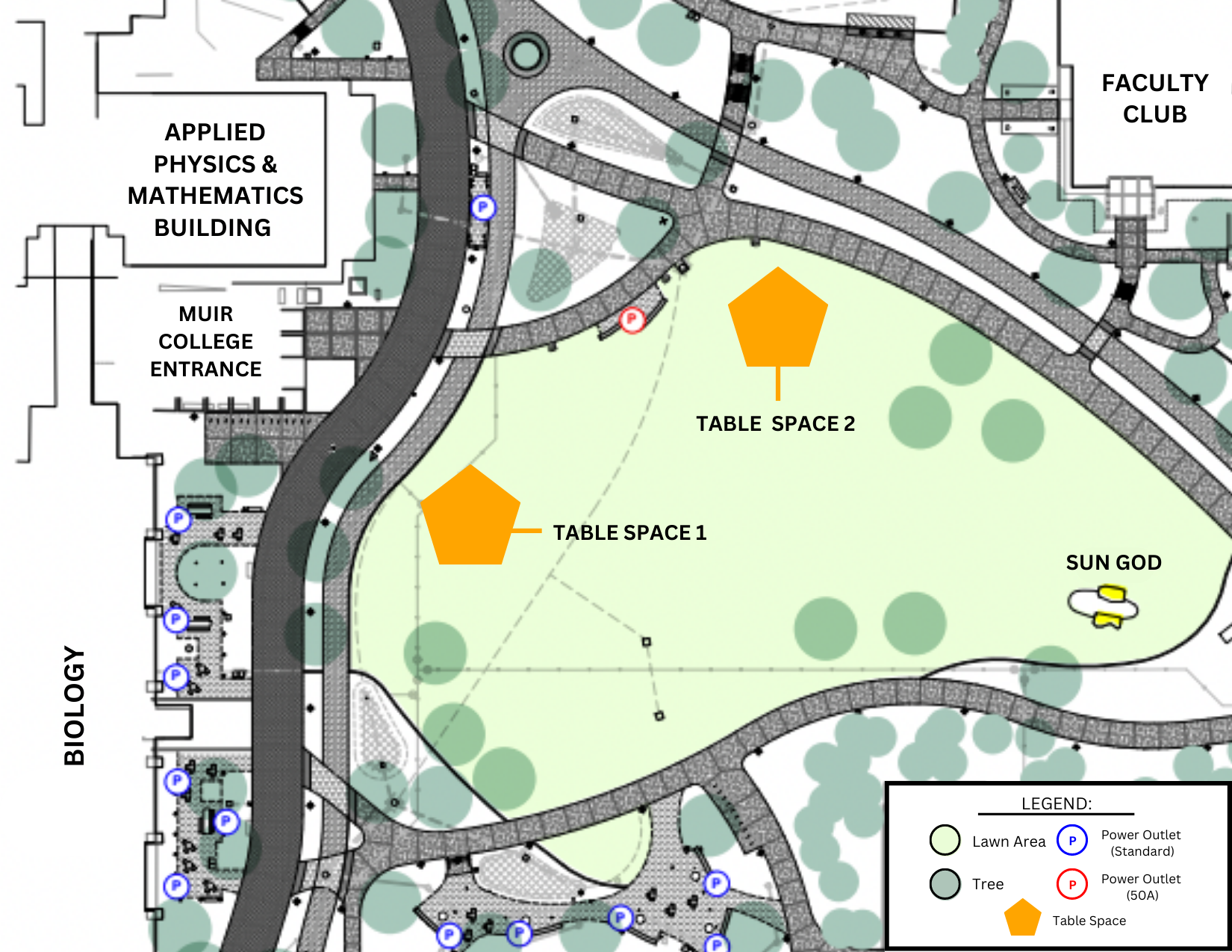 We are excited to provide a space on campus for event reservations and potential tabling opportunities for UC San Diego registered Student Organizations and Departments. The SunGod lawn is a newly renovated space for students to study and relax. Please review the guidelines below that the Sun God Lawn Management Team will use in order to maintain a balance or reservations and free student use. Your reservation must be confirmed via email.
Expect at least 3 business days for a confirmation response. Requests must be sent at least 2-3 weeks prior to requested date; reservation can only be made for current and immediately subsequent Quarter.
We will allow for one registered student orgs or campus department to table on the designated tabling areas in Sun God lawn per day (Monday through Friday 8am-5pm).
Tabling: Distribution of items or marketing materials to students that pass by
We will allow for large scale events to take place on Sun God Lawn and will limit Large scale programming to three large scale events per week. Please take a look here for the current confirmed Sun God Lawn reservations at the calendar linked below.
Large scale event/program (50 + peoples) : Events that include multiple stations and aspects that include but are not limited to tables, bounce houses, food, music (during designated times) and more. 
Again this space is only to be reserved by officially recognized UC San Diego Student Organizations or UC San Diego departments; we will not accept reservations from outside vendors.
If your reservation is denied please contact the Center for Student Involvement: One Stop for other options. Please use the link below for further information. Reservations (ucsd.edu) 
Check Calendar for Availability (*may not reflect reservation requests in process)