Welcome to the LGBTQIA+ Living and Learning Community (LLC) at Muir College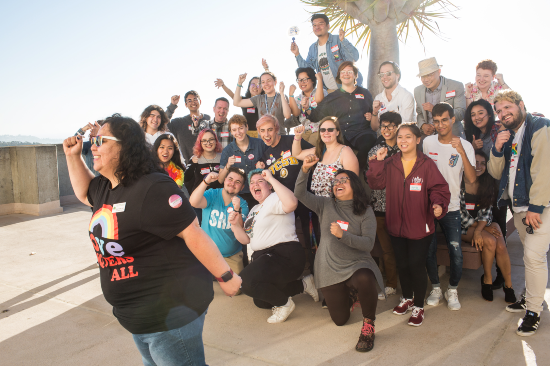 LGBTQIA+ Living Learning Community Mission Statement:
We at UC San Diego acknowledge the need to provide an inclusive space for our diverse LGBTQIA + Community members. We focus on providing a supportive residential environment that helps to empower residents who identify as LGBTQIA+ and their allies through educational programming, social community meetings, leadership opportunities, and inter-community relationships.
Part of our mission statement is to achieve a positive, inclusive and holistic community by practicing these principles:
Building community

Reclaiming History 

Storytelling of Individual and Collective History 

Celebrating the Independent Spirit

Intersectionality with multiple identities and power-dynamic structures

Fostering Safe/Brave Spaces to encourage dialogue

Empowering community members 

Being student-centered and community-driven

Leadership development
As a collective, we aim to make UC San Diego a place for LGBTQIA+ students to call home. We understand that the needs and struggles are diverse and unique for each individual. We strive to create a welcoming space that builds community through personal connections, learning opportunities, promoting self-awareness, and being responsive to the changing needs and concerns of the residents who live in the LGBTQIA+ Living Learning community. We take pride in making this living experience a rewarding and memorable one. 
PROGRAMS
Programs for the LLC can certainly range! We aim to make intentional programs that benefit and enrich the community through social, educational, and social justice lense. Some days, one meeting be a board game night, or others we have a discussion dedicated to learningabout LGBQTIA+ issues  — all of these contribute to building community and support between LLCers! Generally, programs will take place at every LLC meeting each week, but there are special large scale programs that the LLC puts on annually too! 
Below is a timeline for our large scale quarterly events:
Fall: Lavender Reception, Muir Pride Week, LLC Queer Dance, LLC Council Event

Winter: LLC Drag Show, LLC Council Event

Spring: LLC Queer Dance, LLC Council Event, Lavender Bye-Bye
HOW TO JOIN
If you are interested in joining our LGBTQIA+ LLC, the current process is outlined below:
Apply for housing through HDH, visit here for current information 
IF you are offered a contract, you will then need to sign the contract a pay the deposit (generally $450) to HDH
HDH will then contact you to see if you wish to opt into any LLC or GIH housing
If you opt into Muir's LGBTQIA+ LLC, you will be sent an application
If your application is approved, the Muir Res. Life office will contact you with an offer
Accept the offer
The Muir Res. Life office will contact you regarding any preferred roommates (roommates MUST also have accepted offers to be in the LQBTQIA+ LCC)
Housing assignments will be sent to students
 Please note that applying to the LGBTQIA+ LCC DOES NOT guarantee that you will be offered a space. 

If you have any questions about this process, please contact us at muirreslife@ucsd.edu.