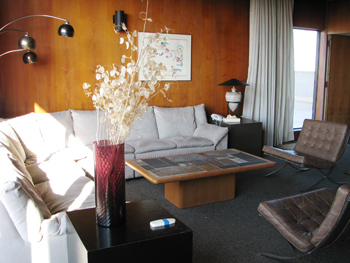 Attention: The Mandeville Suite is currently off line for reservations.  We are currently undergoing rennovations and will be open again to departments once complete.
Rates will be as follows: The new daily rate is $100 per day and the overnight rate is now $150 per night.  Any daily event over 8 hours will accrue a rate of $25 fee per each additonal hour.  Mandeville Suite is billed via departmental recharge only.
The suite is not available for weekend use. All Friday events must end by 4:30 p.m. The suite is also unavailable during university observed holidays and breaks between quarters. Use during the summer is by exception only. For additional information, please contact the Muir Provost's Office at mandevillesuite@ucsd.edu or ext. 4-7127.
The suite is a large apartment on the 11th floor of Tioga hall, at Muir College. It is ideal for departmental receptions, retreats, or staff meetings. Maximum attendance is 50 guests for events where people will be standing and socializing; far fewer can be comfortably seated. It has a large living room, full kitchen, one bedroom with a king-size bed, and a private patio on the west side with a view of the ocean.
Additional seating may be brought into the suite by the renting department.  Any additional seating will not be provided.  The conference room adjacent to the Mandeville Suite is in no way connected to Mandeville Suite and not part of the reservation.  
Departments can have visiting faculty stay overnight, however, no overnight guests are allowed on the same day as an event is scheduled. Stays are limited to maximum two people and overnight visits will be limited to a maximum of (3) three nights. No children under 18 are allowed in the suite at any time. Please also note that the patio on the east side is accessible to all residents of the building for use.
The Mandeville Suite was a gift to John Muir College from Mr. Ernest W. Mandeville. It is hoped that individuals who use the suite would consider it as an extension of their home and exercise the same degree of care and responsibility as they would in their home. In this way, the suite will remain in good condition and provide a comfortable place for all its visitors.
Please note that PPM 510-1.5a - Policy on Major Events on Campus has been updated and may affect your event planning.  Please review the updated policy here before proceeding: http://adminrecords.ucsd.edu/ppm/docs/510-1.5a.HTML
 

To reserve the Mandeville Suite, please submit the Reservation Request Form two weeks prior to your event.
The Muir Provost Office reserves the right to cancel a reservation due to unplanned maitenance or other impairment which would be of obstruction to the reserving department or unit.

---