R

equest to use Upper Quad and Katzen Lawn User Agreement
Questions regarding the usage of Muir Upper and/or Katzen Quads may be directed to the John Muir College via upperquadkatzen@ucsd.edu.
Instructions
Use the calendar below to see existing reservations and lawn space availability. Use the form below to submit your request for consideration. 
Reservations must be made at least 7 business days in advance. Reservations will only be made one quarter at a time. Below review the schedule highlights when we will begin accepting reservations for the upcoming Quarters:
| | |
| --- | --- |
| Timing of Reservation | Accepting Reservations Starting |
| Fall Quarter + Winter Break | Week 7 of Spring Quarter |
| Winter Quarter + Spring Break | Week 7 of Fall Quarter |
| Spring Quarter | Week 7 of Winter Quarter |
| Summer | Week 1 of Spring Quarter    |
Fee Structure:This is a shared space. If the scope of your request does not facilitate usage of the entire space, the other available spaces will be open to other vendors and organizations. 
UC San Diego Registered Student Organizations or Departments = FREE*
Venue does not provide tables, chairs, trash cans, power or any other equipment possibly needed for your event. 
Decisions regarding requests are at the discretion of Muir College and decisions may be modified with appropriate notice given.
Depending on the volume of requests, it may take a few days to process your request. 
Lawn Space Map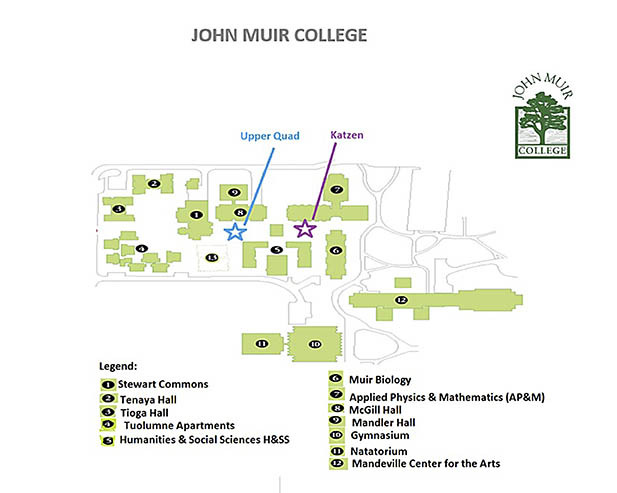 Check Calendar for Availability