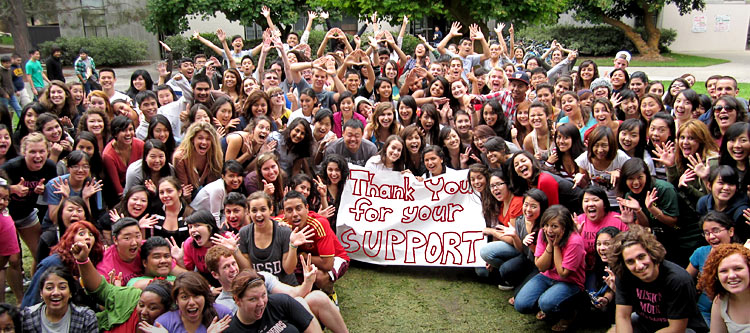 Muir depends on the generosity of our alumni, parents, and friends to support the activities and programs that have made the college a special place for generations of University of California San Diego students.
We rely on your gifts to support the events and programs that enrich student life such as our annual music festival Muirstock, the Pumpkin Drop and Halloween Carnival, the Muir Musical, and a host of other social and cultural opportunities. Your gifts also underwrite the activities of student organizations such as the Muir Environmental Corps, Muir Eventual Doctors, Muir College Council, Muir Residents Council, Tribe of Muir Transfers, Muir Theatre Troop, and many others, and help make possible the personalized academic advising in which Muir takes pride and on which our students depend.
Your generosity has also enabled the complete renovation of the College Center which includes M.O.M. (Middle of Muir) a student lounge with computer terminals and wide screen TV; P.O.P. (Purveyor of Products), our snack and sundry shop; and the Muir Woods Coffee Shop. More students than ever before are taking advantage of this exciting new space for studying, relaxing, meeting friends, and enjoying informal music, theatre, and comedy performances in the evenings.  Your gifts have also made it possible for us to give Half Dome Lounge, our principal student meeting room, its own needed face-lift that includes a demonstration kitchen in which students can share their family food traditions and learn about healthy eating.
Please help us keep Muir student life and traditions alive by giving to the Muir Provost's Fund. Every gift counts!
Thanks from all of us at Muir.
Muir College Innovation Fund
Support new student life initiatives and enhance co-curricular opportunities at Muir college. Gifts of any size help provide essential complements to classroom instruction and enrich your child's education. From bringing to stage the annual Muir Musical and renovating the Muir College Center, to supporting student organizations and clubs, your gifts make possible a variety of initiatives for a well-rounded education.
Muir College Scholarship Fund
Support high achieving undergraduate scholarship and transform a deserving student's life.
Scholarships help bridge the gap between college expenses and financial aid, and can be the deciding factor for whether a student attends UC San Diego – or even if he or she will attend college at all. You can transform a talented student's life by making a scholarship gift of any size.
To learn more about other giving opportunities at Muir College, email parentfamilygiving@ucsd.edu or call (858) 822-3867.
Mail Your Gift
Make your check payable to "UC San Diego Foundation," and mail it with your payment to:
UC San Diego Gift Processing
9500 Gilman Drive #0940
La Jolla, CA 92093-0940
Corporate Matching Gifts
Matching gift programs can dramatically increase the impact of your gift to UC San Diego. Many employers sponsor matching gift programs and may double or triple any charitable contributions made by their employees.
Other Types of Giving
To make your gift by mail or phone, or to learn about other giving opportunities, please contact Jen Stanley at (858) 822-3867 or parentfamilygiving@ucsd.edu.
To learn more about other giving opportunities at UC San Diego: