John Muir College Posting Policy
Reviewed: June 15, 2021
Effective: June 17, 2021
Posting in John Muir College must be in compliance with the University of California San Diego Policy on the Use of University Property (Policy & Procedure Manual 510-1 Section IX) which can be found on this website: http://adminrecords.ucsd.edu/PPM/docs/510-1.9.HTML.  Additionally, posting must be in compliance with the following John Muir College Posting Policy.
This policy covers locations for posting and chalking in John Muir College as well as potential consequences for non-compliance.  More information and a diagram outlining the permitted posting locations can be found below.
Note that UC San Diego and John Muir College do not prohibit the posting of materials based on the content. However, UC San Diego and John Muir College do not endorse the content of posted, distributed, or exhibited literature on its property.
General Posting Information:
Advertisements, publicity materials, literature, and other written materials may only be posted in the areas outlined in the below section titled "John Muir College Posting Locations." Prior approval is required for some posting locations, as outlined in this policy.

Posting areas requiring approval may be posted once the appropriate individual or office has given authorization.

A maximum of two postings per posting location is permitted unless otherwise specified in the table below. "Wallpapering" is not permitted.

Postings should not damage the area to which they are affixed. Blue painters tape is highly recommended to post materials in designated locations.

Posting is not permitted on doors, columns, lampposts, poles, trees, sidewalks, or other locations not mentioned in campus policies.

Postings must be removed within two business days following the event or program or within ten business days of posting. It is the responsibility of the sponsoring group(s)/organization(s) to remove postings.

The John Muir College staff reserve the right to remove any posted materials not in compliance with the College's and/or UC San Diego's outlined posting policies.

The posting areas will be reviewed on a regular basis to ensure compliance with university posting policies.
Chalking
Chalking is only allowed on sidewalks of UC San Diego grounds that are exposed to weather elements and not covered by a roof or overhand. Chalking on other surfaces is prohibited.  Please refer to UC San Diego Policy & Procedures Manual Section 510-1 Section IX (

http://adminrecords.ucsd.edu/PPM/docs/510-1.9.HTML

) for additional requirements and stipulations on chalking.
All posting should include:
The nature of the event, program, or purpose of the advertisement; the sponsoring group(s); relevant dates, times, and locations (i.e. event date, start & end time, and location); and contact information.
Programs or events sponsored by John Muir College or John Muir College Student Organizations will be given priority and take precedence over all other postings.
 Dimensions by Type of Posting:
Flyers must be within the following dimensions: 8 ½ inches x 11 inches (printer paper size).

Posters must be within the following dimensions: 11 inches x 17 inches.

Banners may be no larger than 5 feet x 3 feet

 
Compliance
If an individual, group, or organization fails to comply with UC San Diego's posting policies and/or John Muir College's Posting Policy, their posted materials will be removed and their posting privileges may be affected.

Failure to adhere to university posting policies may result in any or all of the following actions:

Immediate removal and disposal of postings

Report to student organization advisor at the Center for Student Involvement or Undergraduate College

Suspension of posting privileges for a period of time

Other disciplinary action for individuals, groups, or student organizations at the discretion of the Dean of Student Affairs or relevant campus administrator
Please contact the John Muir College Office of Student Affairs with any questions you may have regarding the College's posting policies via e-mail or phone at (858) 534-3587.
John Muir College Posting Locations
The following section outlines the John Muir College posting areas. The small letter in parenthesis in green next to the location refers to the location on the map at the end of this policy. 
Note that indoor posting spaces and some outdoor posting spaces fall under the purview of the relevant university office and require prior approval. Posting in other locations not outlined below is prohibited. 
LOCATION

PERMISSIBLE POSTING TYPES

APPROVAL REQUIRED BY

Bulletin Boards in the hallway outside of Academic Advising and Student Affairs & Inside Academic Advising and Students Affairs (Humanities & Social Sciences Building West Wing) (A)

Flyers

John Muir College Student Affairs &

John Muir College Academic Advising

(H&SS 2126 – See Front Desk)

Bulletin Boards inside the John Muir College Writing Program Hallway (H&SS East Wing) (B)

Flyers

John Muir College Writing Program

(H&SS 2346)

Pedestrian Bridge between the Applied Physics & Mathematics (AP&M) Building and Biology Building (C)

Posters

Banners

A Limit of 3 banners between the East and West side of the bridge are permitted per Organization or Slate

John Muir College Student Affairs

(H&SS 2126 – See Front Desk)

At the Middle of Muir (MOM) Desk for Students to Pick Up

Flyers

Director of the Muir College Center

Outside Windows of MOM

Posters

Limited to pre-approved special events

Director of the Muir College Center

MOM Digital Sign

Digital Flyers

Priority given to John Muir College Programs, Events, and Organizations

Coordinator of Student Activities/

Director of the Muir College Center
Outside the Muir College Center (

F

)


  

Posting Approval Requirements

NO APPROVAL NECESSARY
Note:

 

Posting is only permitted on the south side of this kiosk
No posting is permitted on the glass (north side) of the kiosk

"Wallpapering" Not Permitted
Between Tenaya & North Torrey Pines Living and Learning Neighborhood (

G

)

  

Permissible Posting Types
Posing Approval Requirements

NO APPROVAL NECESSARY
Note:

"Wallpapering" Not Permitted
West Side of Glacier Point Facing Tioga Hall (

H

)

  

Permissible Posting Types
Posing Approval Requirements

NO APPROVAL NECESSARY
Note:

"Wallpapering" Not Permitted
North Side of Glacier Point Facing Tenaya Hall (

I

)

 

Permissible Posting Types
Posing Approval Requirements

NO APPROVAL NECESSARY
Note:

"Wallpapering" Not Permitted
Stairwell walls below Pines & Between Roots & the Muir College Center (

J

)

   

Permissible Posting Types
Posing Approval Requirements

NO APPROVAL NECESSARY
Note:

"Wallpapering" Not Permitted
Board Next to John's Place & Market (K

)

 

Permissible Posting Types
Posing Approval Requirements

NO APPROVAL NECESSARY
Note:

"Wallpapering" Not Permitted

 

Board Underneath AP&M and Mandler Bridge (L

)

 

Permissible Posting Types
Posing Approval Requirements

NO APPROVAL NECESSARY
Note:

"Wallpapering" Not Permitted
LOCATION

PERMISSIBLE POSTING TYPES

APPROVAL REQUIRED BY

Residential Areas (Including Tioga Hall, Tenaya Hall, Tuolumne Apartments, and Tamarack Apartments)

John Muir College Residential Life

(Tuolumne Apartments – 1st Floor)

H&SS, AP&M, & Biology Buildings, McGill Hall, Mandler Hall, Residential Facility, & Stewart Commons (including Exterior of Pines) Cement Columns, Exterior Doors, and Exterior Walls; Lampposts; Poles; Signs Trees; Benches; Planters; & JMC Kiosk Outside Ledden Auditorium

NO POSTING PERMITTED

NO POSTING PERMITTED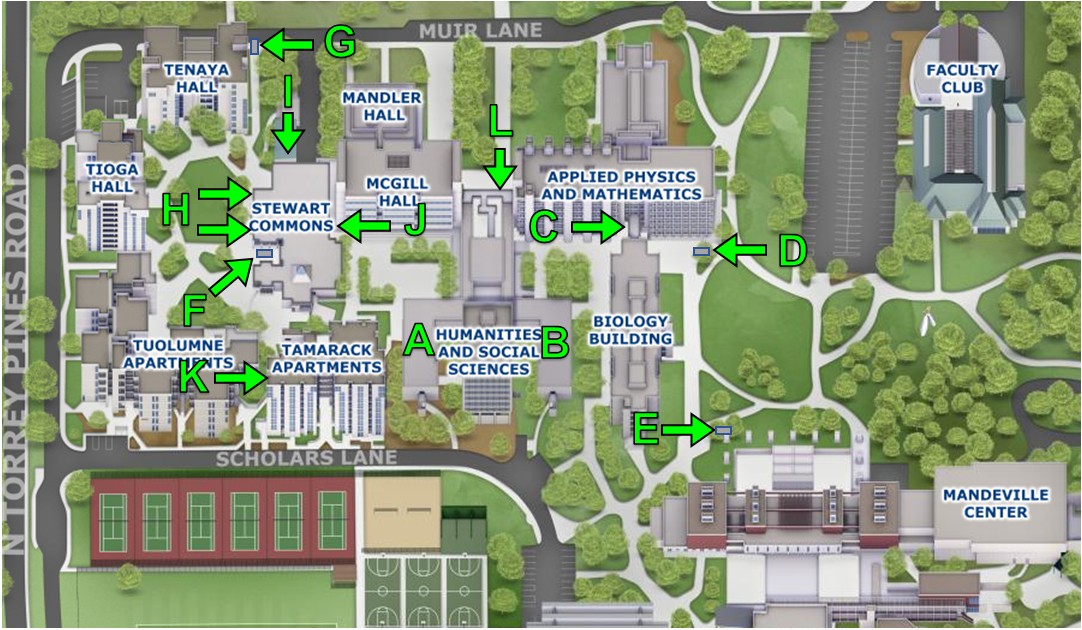 Key:
A – H&SS West Wing (Academic Advising & Student Affairs)
B – H&SS East Wing (Muir College Writing Program)
C – AP&M/Biology Building Bridge
D – Removed for Construction
E – Removed for Construction
F – Kiosk Outside the Muir College Center
G – Kiosk Between Tenaya & North Torrey Pines Living and Learning Neighborhood
H – West Side of Glacier Point Framed Posting Areas
I  – North Side of Glacier Point Framed Posting Areas
J  – Stairs Below Pines
K – Board Next to John's Place & Market
L – Board Underneath Bridge Between AP&M and McGill Hall