Commuter Student Life
Commuter students make up a large portion of the UC San Diego population. Both UCSD and Muir College offer a broad spectrum of services and programs to involve students in educational opportunities both in and outside the classroom. In addition, the Muir Dean of Student Affairs' staff is available to assist in a variety of ways to ensure a quality educational experience.

Active involvement is an important part of the college experience. Studies have shown that students who are involved in co-curricular activities actually do better in school than those who are not involved. The range of activities at Muir and UCSD are diverse and flexible enough to accommodate a busy schedule. Muir College and UCSD have a variety of opportunities for student involvement as a transfer student or commuter student.  Students are eligible to participate in any organization at UCSD and listed below are organizations designed specifically for commuter students.
---
Commuter Student Resources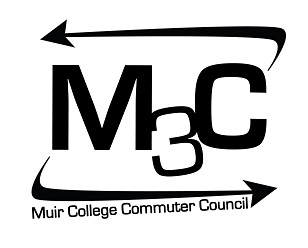 Muir College Commuter Council (M3C)
Muir College Commuter Council (M3C) is best known for hosting a bi-weekly FREE breakfast and finals week Burnout Center for all of Muir commuter students to enjoy.  M3C also represents the Muir commuter population on important university issues relating to commuters such as parking, commuting, shuttle services, and much more.  If you commute to UCSD, this is the perfect organization for you!
Contact Us

for more information about Commuter Student Opportunities or with any questions!