Apartment Single Rooms
Dimensions:
Room configurations vary. Singles are 8' x 12'
Each room is furnished with a bed, desk, chair, wardrobe, chest of drawers, and waste/recycle bins.
Beds are extra-long twin mattresses (36" x 80") and can be raised or lowered, 14" and 32".
Typically, there are 2-3 singles in Tuolumne per apartment, while Tamarack always has 2 singles per apartment.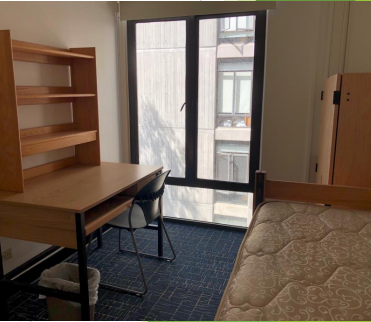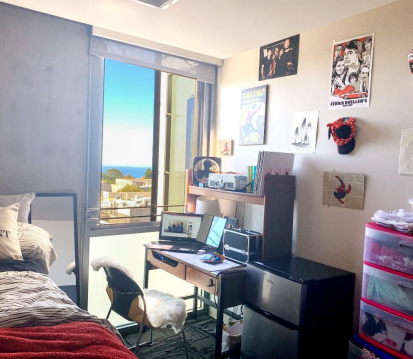 Please Bring: Extra-long twin sheets, pillow & pillowcase, comforter/blanket, towels, desk lamp, laundry detergent, alarm clock, a power strip, & a heavy-duty extension cord with a surge protector. You may want to consider sharing items such as a mini-fridge no larger than 5 cubic feet.
Please Do Not Bring: Incense, candles, a fire source of any kind, cigarettes (including e-cigarettes), any type of tobacco product (including chewing tobacco), halogen lamps, cooking appliances with exposed heating elements, guns or weapons including karate weapons, BB & paintball guns, laser pointers, alcohol or illegal drugs. Any "pet" must live totally underwater 24/7 in a tank no larger than 10 gallons. Each student is permitted 1 tank.