Muir College Welcome Week 2018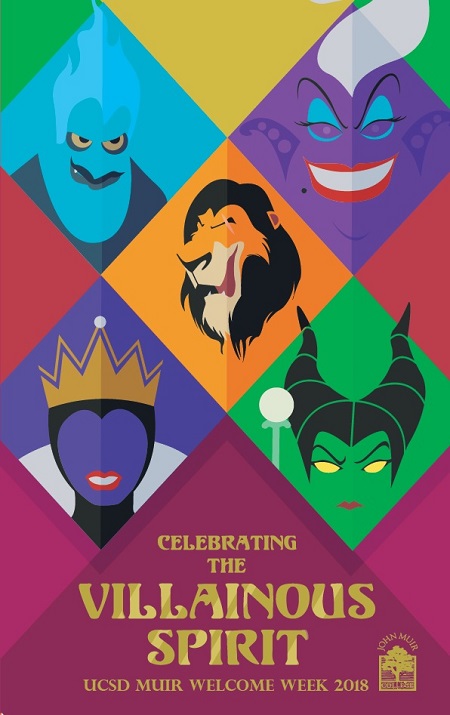 ---
Wednesday, September 19
Muir Resident House Meeting #1
7:00PM – 8:00pm @ Various Locations
Moved in early?! Head to your Muir House Lounge to meet your House Advisor's and fellow housemates! Apartment residents, meet your HA's in the Quad. Mandatory for Muir Residents.
Friday, September 21
Muir Outreach Ice Cream Social
Hosted by Outreach Coordinators for Out-of-State & International Students
7:00PM – 8:00PM @ Half Dome Lounge
Meet the Outreach team and learn secrets for a successful first week of college.
Saturday, September 22
Kaa's Krazy Hypnosssisss
9:00PM  – 10:30PM @ M.O.M. Quad
Trust in me, you won't want to missss Dr. Ken's Hypnotissst Ssshow. In the event of rain, this will be hosted in Ledden Auditorium. Arrive early for a good spot.
Sunday, September 23
Muir Commuter Luncheon
12:00PM – 1:00PM @ El Portal Commuter Lounge
Enjoy lunch with your fellow commuters and learn about commuter life! RSVP by 9/21 at 12:00pm to: muirsaintern@ucsd.edu. Muir Students Only.
Muir Involvement Festival
2:00PM – 3:30PM @ M.O.M Quad
Magic mirror on the wall, which org will you choose this fall? Student leaders, sweet treats, raffles, and games await you!
All Muir College Student Organizations will be tabling.
Let's Get Down to Business – UnOlympics Training #1
4:00PM – 5:30PM @ Muir Quad
The 1st practice for the UnOlympics dance & games! Let's win the Golden Shoe!
Muir Residents House Meeting #2
Hosted by Muir House Advisors
6:00PM - 8:00PM @ Various Locations
Head to your Muir House Lounge to meet your House Advisor's and fellow housemates! Apartment residents, meet your HA's in the Quad. Mandatory for Muir Residents.
Fall Y'all
Hosted by ASCE
8:00PM – 11:00PM @ RIMAC Field
Registration: Sunday, noon-10:30, or until event capacity is reached.  Located at the Marshall Tennis Courts.
Event Description: Fall Y'all kicks off the school year with a free music festival that welcomes new and returning UC San Diego students.  Hosted by the undergraduate student government, Fall Y'all features a stage musical performances, free food from unique San Diego vendors and other interactive elements.  Our festival captures the excitement of students in their first moments of the new school year. Welcome to fall, y'all!
Monday, September 24
Triton Mania
Hosted by Athletics
11:00AM – 12:00PM @ RIMAC Arena
Indoor fireworks, entertainment, food, and fun! Meet in the Quad at 10:30AM to go with fellow Muirons.
Student Services Fair
Hosted by the Center for Student Involvement
12:00PM – 12:30PM @ Ridgewalk at RIMAC
Check out campus-wide student services that are you ticket to success in college!
Shiny - UnOlympics Training #2
2:00PM – 3:30PM @ Muir Quad
Practice makes perfect – don't miss out!
Pre-Convocation Rally
3:55PM @ Muir Quad
First-Year Muir Students Only: First-years will take a class photo, do an environmental pledge, and then begin their academic journey. Do you hear bagpipes?! *Wear Muir gear*
Convocation
5:00PM – 7:00PM @ RIMAC Field
First-Year Muir Students Only: Kick off your academic journey at UC San Diego with a welcome from our esteemed faculty! Chat with faculty members over dinner. Dinner provided.
Muir Dance
9:00PM – 11:45PM @Muir Quad
Enjoy a night of music and dancing at Muir College's Welcome Week Dance. Reputation for best Welcome Week dance!
Student ID required.
Tuesday, September 25
Scavenger Hunt
11:00AM – 1:00PM @ Starts in M.O.M. Quad
Oh no, Dalmatian puppies are hiding in major "spots" on campus. Rescue them with a group before Cruella finds them. Treats for all participants. Prizes available for the first groups to complete it.
Oogie Boogie - UnOlympics Training #3
3:00PM – 4:30PM @ Muir Quad
Hone in those dance moves or volunteer for a relay race.
S'mores at the Shores
Hosted by Muir Organizing Board
Shuttles (Muir Students Only): 5:30PM – 7:30PM @ Lyman Dr. near Mandeville Auditorium
Event: 6:00PM – 8:30PM @ La Jolla Shores
Don't miss out on s'more, games, and friendship.
Student ID required.
All College Trip to Target
Hosted by The Six Colleges
8:00PM – 12:00AM @ Rupertus Lane for Buses
Whether you forgot something at home or just want to take the first of many trips to the $1 bins, join us for a trip to Target in Mira Mesa and stock up on items that you need!.
Student ID required.
Wednesday, September 26
Organic Pancake Breakfast
Hosted by Muir Environmental Corps
9:00AM – 10:00AM @ M.O.M Quad
Eat delicious organic pancakes with Muir Environmental Corps (MEC). Sustainability reminder: bring your own reusable plate AND utensils!
Pre-UnOlympics Rally
11:00AM – 12:30PM @ Muir Quad
Get PUMPED for UnOlympics! Pizza, dancing, relay practices, and more await for this spirit rally. Rally to RIMAC starts at 12:30PM
UnOlympics
1:00PM – 4:00PM @ Spanos Track
*Best UC San Diego Tradition* Come participate and cheer on Muir as we battle for the Golden Shoe!
Know Your Council
Hosted by Muir College Council
4:30PM – 6:30PM @ Muir Quad
Unwind and grub with the student government of Muir College. Interested in joining? Ask about open applications.
A-MUIR-Ican Idol
Hosted by Muir Residents' Council
8:00PM – 10:00PM @ Muir Quad
Come out to karaoke night! Get your vocal cords ready to sing your favorite hits (or Disney villain tunes)! All skill levels and ranges welcome.
Thursday, September 27
All College Transfer Welcome
Hosted by the Six Colleges
3:30PM - 5:30PM @Price Center East Ballroom
All incoming UCSD transfer students are invited to the Transfer Welcome – a social designed to help you meet other incoming transfers. Enjoy snacks; enter to win prizes; and learn about special events, opportunities, and groups that are designed for you.
This event is open to all Colleges, but is limited to incoming transfer students only.
Student ID required.
FOOSH Improv Show
Hosted by FOOSH
9:00PM – 10:30PM @ Peterson 110
Laugh away the first day of classes with a fun night of comedy with Muir's improve student organization, FOOSH!
For more information about events happening throughout the year, please read Muir Words, the college's weekly newsletter, like us on Facebook, and follow us on Instagram @muircollegeofficial.