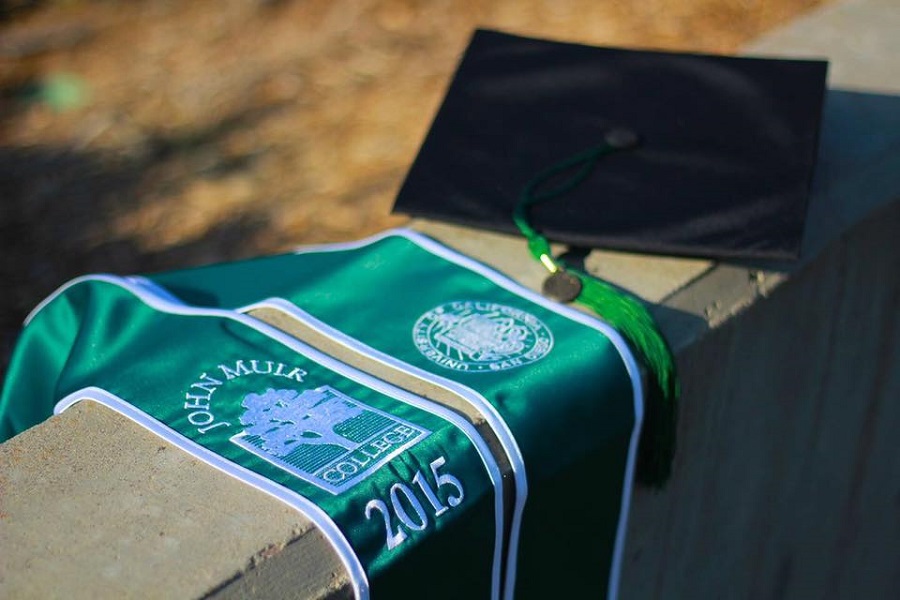 Save the Date for John Muir College's 2020 Commencement Ceremony.  Ceremony will be held on Saturday, June 13th, 2020 from 5:00pm - 6:45pm.
Updates for June 13th ceremony being added.  Check back often!
2019 Graduates, watch your ceremony HERE.
UC San Diego follows a time-honored tradition of unifying all graduates from all college divisions during one unique ceremony available to all graduating undergraduate students.  This graduation is known as All Campus Commencement.  This year All Campus Commencement will feature Chancellor Pradeep K. Khosla officially conferring degrees by academic division along with Keynote Speaker TBD.
In addition to All Campus Commencement, graduating undergrads may choose to attend their College specific, Muir College ceremony, where graduates are recognized by name as they walk across the stage. 
Any student wishing to participate in the June commencement ceremony must have completed 135 units by the end of Winter Quarter. Participation in the commencement ceremony does not constitute official graduation from the university.
If you will have less than 135 units completed by the end of Winter Quarter and wish to participate in commencement, submit a Commencement Unit Exception Application to the Muir Academic Advising Office.  It will be reviewed by the Graduation Coordinator who often only grants the application in exceptional cases.
Please remember to submit your Degree and Diploma Application (DDA) according to the DDA filing deadlines prior to registering for commencement at http://commencement.ucsd.edu .
All eligible students must register for a ticket on the Commencement Website.
All Campus Commencement (ACC) and Muir College specific commencement registration will open March 4, 2020 at https://commencement.ucsd.edu/ and close on TBD.
There will be a one time $54 flat student fee posted to your student account which will allow for your participation in either one or both ceremonies which will post in early March.  Any UC San Diego student who is eligible to participate in a ceremony will accrue this fee.  This one-time flat fee allows for participation in the college only or college and ACC.  Please be mindful of your account, so as to not accrue any late fees, as we have seen this happen in the past.  All eligible students must pay this fee.
What name will be read during the ceremony, be on my diploma and in College Commencement booklet?
Please see the frequently asked questions on the Preferred Name and Personal Pronouns page.  If you would like to submit a change you must use the Social Identities Tool to make changes.
Still have questions? Contact the Registrar's Office, to verify, not the college.
Want to change your legal name?
Follow these steps to change your University Records.
Still have questions? Contact the Registrar's Office, to verify, not the college.
If you choose to participate in an undergraduate ceremony, you must attend your home college's ceremony unless you have a preapproved exception. Check the list below for possible exceptions.
If one of the circumstances below applies and you are unable to graduate with your college, you may request to participate in another college's ceremony based on availability. This is called an "exception request."
Exceptions considered by the committee
You have worked or lived in a college environment other than your home college for two years.
Provide documentation on campus letterhead from the Residential Life Office or college supervisor confirming the two-year period. Living at the Village is not applicable to this exception request.
You have served as a resident adviser, orientation leader, or intern at a college other than your home college.
Provide documentation on campus letterhead from the Dean of Student Affairs stating the college position you held.
An immediate family member is graduating from an elementary, middle, or high school, or a college or university at a time that conflicts with your home college's ceremony.
Provide documentation on official letterhead from the school's principal or dean stating the date and time of the conflicting school's graduation.
Religious law prevents you from attending your home college's commencement ceremony.
Provide documentation on official organizational letterhead supporting the exception request.
Note: If you receive an exception, you'll be assigned to another college ceremony by the reviewing committee. Your request for a specific ceremony is not guaranteed.
How to submit an exception request
Exception requests can be submitted via email to commencement@ucsd.edu  once registration opens. Detailed instructions will be available in March 2020 on https://commencement.ucsd.edu/ 
How do I get my name in the 2019 -2020 Commencement Booklet?
Students with 135+ units should go online to commencement.ucsd.edu by May 1, 2020 to submit their names in the Commencement Ceremony Program (Booklet) and for purposes of the ceremony.  The website will open February. 6th, students will no longer go to degree.ucsd.edu and indicate if they want their name included for the booklet. 
To verify how your name will appear or to make changes for the Commencement Ceremony, contact the Registrar .  

Very Important:
Due to print deadlines, once the May 1, 2020 deadline has passed, the Commencement Ceremony Booklet will go to print and name edits will not be available.  Therefore, if you would like your name to appear a specific way in the Commencent Ceremony Booklet you must contact/ submit your preferences via Registrar by 11:59pm on May 1st. 
See Registration tab above.
UC San Diego has a long tradition of holding separate commencement ceremonies for each of the undergraduate colleges. UC San Diego's six undergraduate college ceremonies provide students with a setting where graduating seniors may invite family and friends to celebrate their accomplishments. College ceremonies allow individual recognition of each senior.
All graduating students who are eligible and plan to participate in All Campus Ceremony, Muir College Commencement Ceremony or both are required to hold a registration ticket by visiting https://commencement.ucsd.edu/.  The site will open beginning on March 6th and close on TBD.  On TBD students will receive an email to their ucsd.edu accounts informing them they may begin printing tickets.  Each participating student is required to bring the tickets with them on the ceremony day.  Tickets will be scanned at entry points and prior to walking across the stage.
*Note guests are not required to have a ticket.  For further guest information refer to Guest Information header below.
The UC San Diego Bookstore distributes all cap & gowns.  If you have not done so already, you may purchase your cap & gown by visiting the UC San Diego Bookstore in person or on their website.
Latin Honors are awarded campus wide by the colleges at graduation to those students who have completed 72 graded units at the University of California. Effective Fall 2017, there has been a reduction to 72 UC-letter graded units for Latin Honors from 80 UC-letter graded units.
Latin Honors ranges are determined each year and are based on the top 14% of grade point averages from last year's graduates. Summa cum laude is accorded to the top 2%, magna cum laude to the next 4% and cum laude to the following 8%.
2019 - 2020 Latin Honors
(72 UC letter-graded units required)
| | |
| --- | --- |
| Summa Cum Laude | 3.945 - 4.000 |
| Magna Cum Laude  | 3.871 - 3.944 |
| Cum Laude | 3.758 - 3.870 |
These GPA ranges are effective Fall 2019 through Summer 2020. Latin Honors will not be announced with your name during the commencement ceremony.  However, they will be noted with your name in the Commencement Program as well as on your diploma.
Graduates: Arrive at the Triton Track and Field area 90 minutes before the start of the ceremony - that means being at Triton Track at 3:30 p.m.! Remember to leave plenty of time to park and get to RIMAC Field.
 Click Here for a Map of the Arrival Location.
Bring your ticket, cap and gown with you (if you are not already wearing it), along with your Muir College graduation ticket, and proceed to Parking Lot 357. All guests must first go to Parking Lot 357 to process through security detectors. After checkpoint graduates will process to Triton Track.  Note: your family and friends need to proceed directly onto the RIMAC Field.
Only graduates with tickets will be allowed onto Triton Track.
Please listen for and comply with instructions of the commencement staff that will be there to assist you.
You will be escorted in line to the field where you will process into the seating area. Please stay in your designated line. Do not stop for family photos as this delays the procession.
Provost K. Wayne Yang will proceed with the ceremony: speeches, recognition of students and faculty receiving awards, and then the reading of graduates' names and crossing the stage.
The ceremony will conclude with the traditional turning of the tassel (from right to left) and then a recessional of the platform party.
The ceremony is scheduled from 6:00 p.m. - 6:45 p.m. We suggest making your post-Commencement plans after 7:45 PM. This will allow everyone ample time to take pictures after the ceremony and safely exit our parking areas.
Guests should plan on arriving to RIMAC field to find seating 1-1.5 hours prior to Commencement ceremony start time. 
How exactly will graduates be recognized?
Muir College staff will direct graduates to form two lines, one on the left of the stage and another on the right side of the stage. Graduates will be arranged in the order in which they are seated.
When you get to the stage you will hand your commencement ticket with your name as you selected to have it read - and have also spelled it out fo-net-ick-lee . If you are still worried your name will be mispronounced, just whisper the proper pronunciation in the Campus Official's ear as you hand in your ticket.  
The Provost will confer the degrees after everyone has crossed the stage.
After the graduate's name is announced, the graduate will proceed across the stage to receive a congratulatory handshake from a Campus Official while being photographed by a professional photographer.
After crossing the stage, Muir College Commencement Staff will direct graduates back to their seat. Once seated, graduates are expected to stay in their seats for the duration of the ceremony out of respect for all graduates.
Please note that guest tickets are not required for the college ceremonies. There is no limit to the number of guests that a graduate may invite to attend the college ceremony. Remember that seating is on a first-come, first-served basis.
Guests with Special Needs
Commencement is an exciting day for our graduates to share with their families and friends. Please refer to the UC San Diego Commencement Website for information regarding parking and special accommodations for guests,
Proof of Graduation for Family Member Visas
If you are an international student, and require a graduation invitation letter for family members who are planning to attend Muir's Commencement Ceremony, please submit a letter request to the International Students and Programs Office. For additional information, contact the International Students and Programs Office at

(858) 534-3730

.
 If you are not an international student and have a family member or guest who will be traveling from another country, the Muir Student Affairs Office can supply you with a letter stating that you are completing your degree and will be participating in the commencement ceremony. To request a letter, please e-mail the Muir Student Affairs Office at mdeansoffice@ucsd.edu with your full name, PID, and the first and last name and relation of the people who need letters written. You will be notified when the letters are complete and available for pick-up in our office (located at H&SS 2126). You will be responsible for mailing the letter to your family member – Muir College will NOT send the letter internationally to your guest.
Ceremony Etiquette
Please do not approach the stage to take a picture or film your graduates as they cross the stage. Guests must stay within the designated guest area and only graduates are permitted in the graduate seating section. We encourage you to use a powerful zoom lens to memorialize this special day. Also, please be aware that professional photographers from Grad Images will be taking two photos of each graduate – one as they cross the stage after their name is read and the second as they exit the stage. Graduates will receive a proof photo about a month following Commencement, at which time you may decide whether to order prints and enlargements. Graduates may also elect to have a professional Senior Portrait taken in advance at the Bookstore (contact the Bookstore for specific dates and times).
Please follow the advice and instructions of the event staff. This includes parking attendants, event staff, and security guards. We are all there working to ensure that the ceremony proceeds in a timely manner, so please comply with all of our requests.
Please do not bring air horns, large balloon bouquets, or other potentially irksome items to the ceremony. Large balloon bouquets block the view of other guests and the use of air horns can interfere with everyone's ability to hear the ceremony, and many people find them aurally disturbing. Please be mindful that we will have more than 9,000 guests in attendance at our ceremony and respect those around you.
No alcohol of any kind will be permitted on track or surrounding areas, any guests or students will be asked to throw away these substances.

Please do not encourage your graduate to leave the ceremony until its completion. The ceremony officially ends following the tassel ceremony and recessional of the distinguished guests, faculty and staff on stage. Be respectful of the graduates who cross the stage last; they deserve as much attention and recognition as those who cross first.
Flowers for Your Graduate
Leis and bouquets will be sold at commencement.  Students and guests are encouraged to pre-order for pick up before the ceremony so they can wear their leis on stage and in pictures. Orders can be placed at https://graduationdayflowers.com/UCSD/ 
Photographs
Guests are not allowed to cross any barricade or disrupt the flow of the ceremony to take pictures. Only our professional photographers are allowed on stage to take pictures. Please remember to tell your guests to bring a powerful zoom lens to use in memorializing this special day.
Professional photographers will be present at the ceremony taking pictures of the graduate before they step onto the stage and as they cross the stage. 
Grad Fair
Dates: May 12 - 14th in Town Square, just outside the UCSD Bookstore.
Congratulations Triton Seniors! Now's that time to purchase your cap & gown, or bundle and save with a Triton Grad Pack. Find out about diploma frames, class rings, grad announcements, exclusive sales, senior portraits, academic discounts on Apple computers, discounts and more.  For more information, please click HERE.
Senior Portraits
Graduates may also elect to have a professional Senior Portrait taken in advance at the UC San Diego Bookstore during Grad Fair. Please check the Graduation Central webpage of the UC San Diego Bookstore for updates. If you have additional questions, please contact the UC San Diego Bookstore for more information at (858) 534-7323.
Graduation Announcements
Graduation Announcements may be ordered online through Jostens HERE
Class Rings
UC San Diego Class rings may be ordered online through Jostens HERE
Senior Class Gift
What's Your Legacy? The Senior Class Gift (SCG) is your first step into joining the UC San Diego alumni community and showing how much being a Triton means to you. The mission of the SCG is to engage seniors to leave their legacy and cultivate a pattern of philanthropy before leaving UC San Diego. By making a contribution in honor of our graduating class, you are committing to make UC San Diego a better place. We give back because seniors before us helped make our Triton experience possible. Now it's our turn to give others the same opportunities.