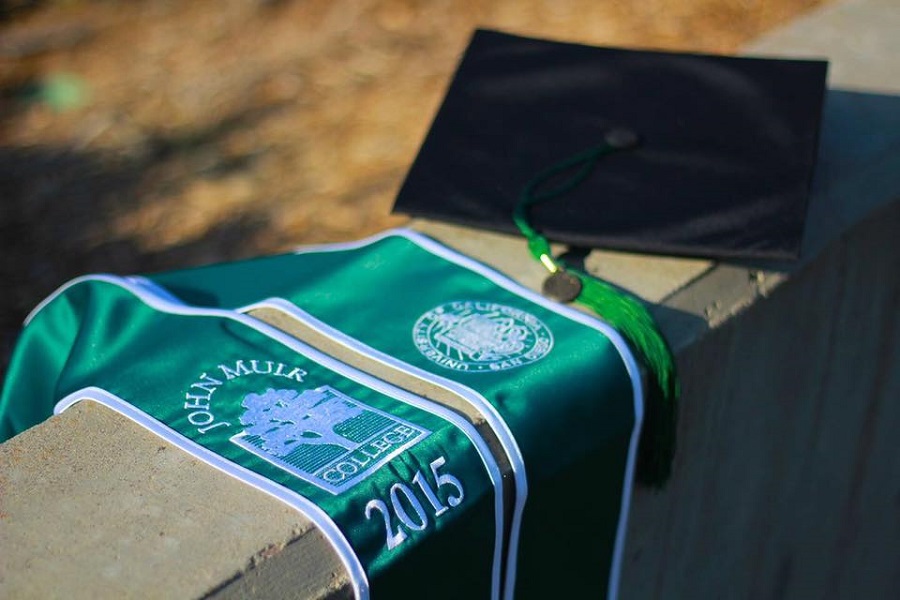 Commencement 2020 in response to Coronavirus/COVID-19
Following guidelines from the Center for Disease Control and UC San Diego Administrators, Virtual Commencement 2020 has officially been announced to be streamed on https://commencement.ucsd.edu/
To ensure the safety of our community, ceremonies for the undergraduate colleges and graduate and professional schools will be virtual. These virtual ceremonies do not replace our traditional in-person commencement ceremonies, which will be held at later, yet-to-be-determined dates. Students must register to participate in the virtual commencement.
Graduates: while Commencement 2020 will not be in person this June, your tremendous accomplishment must be celebrated—now, virtually, and again, in person, when it is safe to gather. To this end, we have partnered with campus leadership to create a special virtual ceremony that celebrates our Muir College graduates. This does not replace the traditional in-person ceremonies that will be held at later, yet-to-be-determined dates.
Register today to participate in Virtual Commencement 2020, receive a commemorative mortarboard and tassel, and stay informed about future plans. To receive your commemorative gift and have your name recognized at Virtual Commencement, please register by May 26.
Any student wishing to participate in the June commencement ceremony must have completed 135 units by the end of Winter Quarter. Participation in the commencement ceremony does not constitute official graduation from the university.
If you will have less than 135 units completed by the end of Winter Quarter and wish to participate in commencement, submit a Commencement Unit Exception Application to the Muir Academic Advising Office.  It will be reviewed by the Graduation Coordinator who often only grants the application in exceptional cases.
Please remember to submit your Degree and Diploma Application (DDA) according to the DDA filing deadlines prior to registering for commencement at http://commencement.ucsd.edu .
All eligible students must register for a ticket on the Commencement Website.
Virtual Commencement will be held on June 13th at 9:00am at https://commencement.ucsd.edu/ .
All students must register to have your name recognized in the program—even if you had previously registered for your undergraduate college, graduate, and professional school ceremonies. If you do not register by May 26, 2020 by 11:59 p.m., your name will not be included in the programming and your mortarboard and blue and gold 2020 tassel may arrive after the June 13 event. There is no fee to participate in Virtual Commencement 2020. Fees paid by students who previously registered for commencement will be automatically refunded.
Will there be a commencement booklet this year?
No, due to circumstances around Covid 19/Coronavirus we will unfortunately not be able to offer booklets this year.  However, scrolling names of students from individual colleges will be shown during virtual commencement.
Please see the frequently asked questions on the Preferred Name and Personal Pronouns page.  If you would like to submit a change you must use the Social Identities Tool to make changes.
Still have questions? Contact the Registrar's Office, to verify, not the college.
Want to change your legal name?
Follow these steps to change your University Records.
Still have questions? Contact the Registrar's Office, to verify, not the college.
Unfortunately this year students will be unable to request that their names scroll on a non-affiliated colleges ceremony.  However, Muir College will be developing a list of eligiblie conferring candidate names that you will be able to export and print from the Muir website.
If you are a non-Muir student but would like to have your name listed on the conferring candidate printable Muir document please submit a google form HERE.  All forms are due no later than 2:00p on Wednesday, May 27th.
The printable candidate list will be available here on the Muir Commencement page no later than virtual commencement date June 13th, please check back then.
Please return by June 13th to retrieve a printable candidate list.  Students who register for virtual commencement by May 26th will automatically be added to the list.  
Please see exceptions tab above for more information.
How do I get my name scrolled during the Muir College Virtual Commencement?
Students with 135+ units should go online to commencement.ucsd.edu by May 26th, 2020 to submit their names.
To verify how your name will appear or to make changes for the Commencement Ceremony, contact the Registrar .  

Very Important:
Due to print deadlines, once the May 26th, 2020 deadline has passed, name edits will not be available.  Therefore, if you would like your name to appear a specific way in the Commencent Ceremony scrolling commencement, you must contact/ submit your preferences via Registrar.
See Registration tab above.
All graduating students who are eligible and plan to participate in Virtual Commencement Ceremony must register by May 26th by visiting https://commencement.ucsd.edu/.  
The UC San Diego Bookstore distributes all cap & gowns.  If you have not done so already, you may purchase your cap & gown by visiting the UC San Diego Bookstore in person or on their website.
Latin Honors are awarded campus wide by the colleges at graduation to those students who have completed 72 graded units at the University of California. Effective Fall 2017, there has been a reduction to 72 UC-letter graded units for Latin Honors from 80 UC-letter graded units.
Latin Honors ranges are determined each year and are based on the top 14% of grade point averages from last year's graduates. Summa cum laude is accorded to the top 2%, magna cum laude to the next 4% and cum laude to the following 8%.
2019 - 2020 Latin Honors
(72 UC letter-graded units required)
| | |
| --- | --- |
| Summa Cum Laude | 3.945 - 4.000 |
| Magna Cum Laude  | 3.871 - 3.944 |
| Cum Laude | 3.758 - 3.870 |
These GPA ranges are effective Fall 2019 through Summer 2020. Latin Honors will not be announced with your name during the commencement ceremony.  However, they will be noted with your name in the Commencement Program as well as on your diploma.
Commencement will be streamed live on Saturday, June 13th at 9:00am and will be available to restream thereafter. 
Proof of Graduation for Family Member Visas
If you are an international student, and require a graduation invitation letter for family members who are planning to attend Muir's Commencement Ceremony, please submit a letter request to the International Students and Programs Office. For additional information, contact the International Students and Programs Office at

(858) 534-3730

.
 If you are not an international student and have a family member or guest who will be traveling from another country, the Muir Student Affairs Office can supply you with a letter stating that you are completing your degree and will be participating in the commencement ceremony. To request a letter, please e-mail the Muir Student Affairs Office at mdeansoffice@ucsd.edu with your full name, PID, and the first and last name and relation of the people who need letters written. You will be notified when the letters are complete and available for pick-up in our office (located at H&SS 2126). You will be responsible for mailing the letter to your family member – Muir College will NOT send the letter internationally to your guest.
Grad Fair
Congratulations Triton Seniors! Now's that time to purchase your cap & gown, or bundle and save with a Triton Grad Pack. Find out about diploma frames, class rings, grad announcements, exclusive sales, senior portraits, academic discounts on Apple computers, discounts and more.  For more information, please click HERE.
Senior Portraits
Graduates may also elect to have a professional Senior Portrait taken in advance at the UC San Diego Bookstore during Grad Fair. Please check the Graduation Central webpage of the UC San Diego Bookstore for updates. If you have additional questions, please contact the UC San Diego Bookstore for more information at (858) 534-7323.
Graduation Announcements
Graduation Announcements may be ordered online through Jostens HERE
Class Rings
UC San Diego Class rings may be ordered online through Jostens HERE
Senior Class Gift
What's Your Legacy? The Senior Class Gift (SCG) is your first step into joining the UC San Diego alumni community and showing how much being a Triton means to you. The mission of the SCG is to engage seniors to leave their legacy and cultivate a pattern of philanthropy before leaving UC San Diego. By making a contribution in honor of our graduating class, you are committing to make UC San Diego a better place. We give back because seniors before us helped make our Triton experience possible. Now it's our turn to give others the same opportunities.