Residential Life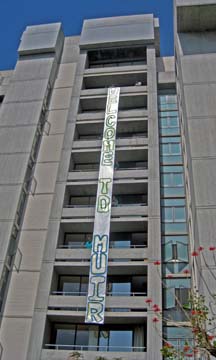 ---
We've never heard anyone say that living in the residence halls or apartments at Muir College is dull! In fact, we think you'll find it to be a unique experience, more like your favorite roller coaster ride, as you experience it as more than just a place to study, sleep and eat. We are here to support your academic pursuits, but we hope to assist and facilitate your personal growth outside of the classroom in a variety of ways.

You'll notice we never use the dreaded "D" word; "dorms" just doesn't exist in our vocabulary and we hope you'll drop it from yours as well! Dorms are those dull places in which all that students do is eat, sleep and study! You'll find our facilities, Tenaya and Tioga Halls and the Tuolumne and Tamarack Apartments, much more exciting and dynamic places to live.

The Residential Life staff works with students who live in the College's residence halls and apartments to create a safe, welcoming living and learning community. They partner with Muir's resident House Advisers, all third or fourth-year students, to engage all resident students in the life of the College and present fun and informative programs throughout the year.
Muir College Housing Wait List
Submit the following form if you are intersted in switching spaces within Muir college
Please keep in mind that this waitlist does not guarantee you a new room but simply allows us to help facilitate a transition if there are vacancies that meet your request. We will attempt to accommodate everyone based off the order that you submitted your preference.
Gender Inclusive Housing
All students  interested in applying for our gender inclusive housing program must supmit their application to the Residential Life Office by April 7th at noon. Students can pick up an information packet from the office or download it here. 
Muir College House Advisors A/V
To request the HA A/V Team and their speakers, microphones, and other equipment for an event, complete the request form 2 weeks in advance of your event. Stay tuned for updates and correspondence in your e-mail. (Muir Student Organizations Only)
Quick Links