Tour Tioga and Tenaya Halls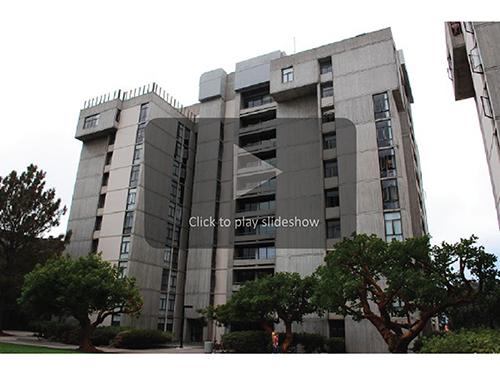 Click the photo for a visual tour of our residential halls!
Tenaya and Tioga Halls give students the opportunity to interact with many new people and make new friendships. The halls are grouped into two story co-ed "Houses" - each house comprised of two actual floors. Each house provides rooms for about 90 students, who live in one of eight single-sex suites. A suite is typically made up of three triple rooms, and two or three single rooms. Each suite shares a bathroom which contains two showers, two toilets, two sinks, mirrors and cubby holes for toiletries.
Each student is provided an extra long twin bed, a desk, chair, bookcase, closet and small drawer unit in their room. Adjoining suites share a lounge with couches, a table, a microwave and a sink. The entire house shares another, larger lounge with couches, armchairs, a coffee table, study tables, chairs and blackboards.
Students living in the residence halls are not responsible for their own housekeeping and cooking. Meal plans are required, as the only cooking appliance provided is a microwave. No pets are allowed in the res halls, other than fish in small tanks. All residential life policies apply. Check out the Res Life page for more information.