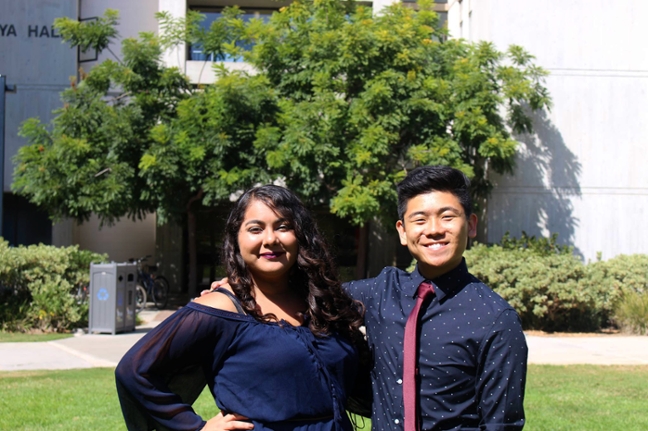 Priya (left) & Andy (right)
Priya Sheth
Hello! My name is Priya and I am one of the HAs for F House (Tioga 3rd & 4th floors) this year.  I am a 4th year Public Health major and Biology minor from Cerritos, CA. I am also a Student Health Advocate on campus. I love reading, going to the beach, hanging out with friends, exploring San Diego, dancing, doing arts and crafts, and Buzzfeed personality quizzes. I adore food of most kinds, so hit me up if you want to go out and grab a bite.
Until then, feel free to contact me with any questions or concerns you may have. Feel free to stop by my room on the 4th floor and say hi, hang out, question life, or talk about anything at all. :) I am thrilled to be one of your HAs this year and can't wait to meet you all!  I sincerely hope that I can help make F House your home away from home!
Andy Huynh
Hello!! My name is Andy Huynh (he/him/his), and I am one of the House Advisors for Fire and Ice House! I'm a third year Human Biology major with a minor in Chemistry from Las Vegas, NV. I love dogs, Beyoncé (my life's mission is to learn all of her choreography), and Vietnamese and Thai food! I'm a pretty chill person with a touch of wild, but that's what keeps things exciting and fun, right? I hope you all find a great community here in F House and Muir College!