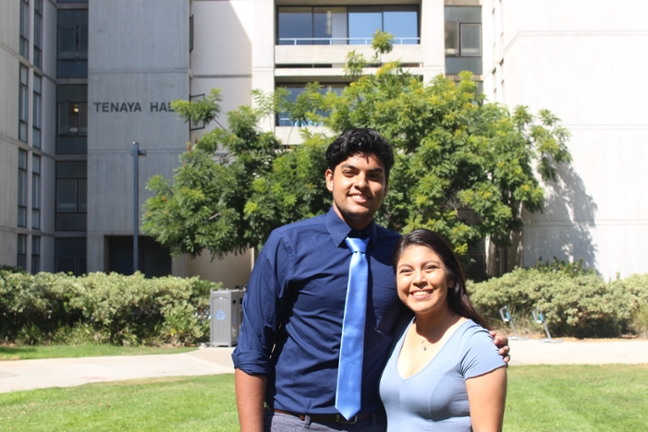 Ishaaon (left) & Patricia (right)
Ishaaon Sivansh
Hello, my name is Ishaaon Sivansh. I am a third year Biochemistry and Cell Biology major from Phoenix, Arizona. My favorite food is a toss-up between lasagna and mac and cheese and my favorite book series is the Harry Potter series. I enjoy watching a lot of TV shows and movies (my favorite TV show is Avatar the Last Airbender and my favorite movie is the Dark Knight). Some of my favorite things to do near and around campus are going to the beach, watching shows or events on campus, and exploring new places around town. I love watching sports and am a huge Suns, Cardinals, and Tottenham Hotspur fan. I also love hiking and playing sports, so let me know if you want to play basketball, soccer, volleyball, tennis, or anything else! Please come by Tioga and say hi whenever you can!
Patricia Cabrera-Vasquez
Hi everyone! My name is Patricia Vasquez and I'm a 3rd year majoring in Urban Studies and Planning and minoring in Sociology. I'm from a small town in Ventura County called Fillmore here in California, but San Diego is definitely a place I consider home. Some of my hobbies include listening to music and going to concerts (mainly of the pop punk genre), playing some ukulele, watching Parks and Recreation, eating breakfast at all hours of the day, and exploring new places in San Diego. The La Jolla Cliffs are definitely my favorite place to visit nearby campus whenever I've got some free time. This year I'm working as the Muir College 50th Anniversary Intern so I'm helping plan all the great events surrounding the 50th Anniversary. You can usually find me at Muir events and various committees, so make sure to say hi if you see me around!