Dartmouth Exchange Program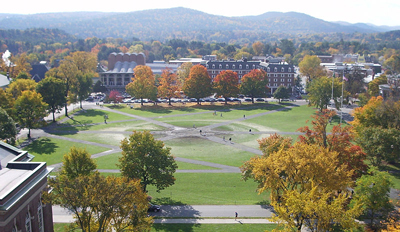 ---
The Dartmouth College - Muir College Exchange Program was conceived by Muir's first Provost John Stewart and former Dartmouth Provost Leonard Rieser as a way to enrich the education of students from both colleges. The first exchange of students took place during the fall quarter, 1970, when Dartmouth was still an all-male institution (it became coeducational in 1972). With as many as 10 students from each school swapping places each quarter, the program continues to provide two challenging academic environments distinguished by markedly different climates.

Dartmouth's 265-acre campus is located in Hanover, New Hampshire, on the Connecticut River between the Green Mountains of Vermont and the White Mountains of New Hampshire. In this setting, Dartmouth is able to fuse exceptional academic opportunities with full exposure to the beauties of northern New England.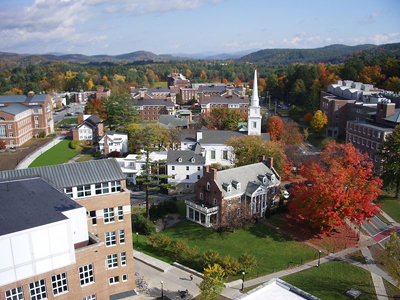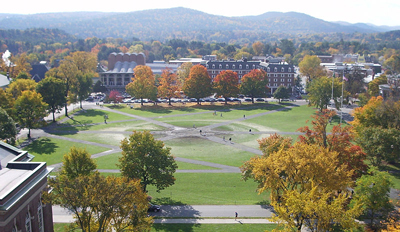 Students who will have completed up to 60 units by the time that they would enroll at Dartmouth are eligible to apply. Seniors are eligible if they will be returning to UC San Diego for at least one quarter after they have attended Dartmouth.
The program is open to all undergraduate students at all six UC San Diego colleges. Preference will be given to students who have a UC San Diego grade point average of 3.0 or higher, although applications will be considered from students who have UC San Diego grade point averages of 2.5 - 3.0.
Courses taken at Dartmouth are treated as transfer units at UC San Diego. No grade may be calculated into the UC San Diego grade point average.
Exchange Fees
Relevant for the 2015-2016 academic year.
Pertains to California residents only.
$5,120.92* Mandatory UC San Diego Registration
$4,050.00 Dartmouth Tuition
$9,170.92 Total
* UC San Diego's fees are subject to change from quarter to quarter.
Non-Resident students are required to pay Non-Resident Fees to UCSD ($13,356.92)
Room & Board (Approximate)
Room: $2,851.00
Board: $1,895.00 ** Non Refundable Declining Balance Account
Total: $4,746.00
Additional Fees
Insurance: Ranges approx $882.00 per Quarter
Books and Misc: $1,100.00 (Average)
Transportation: Students are responsible for their transportation to and from Hanover, New Hampshire.
Applications
Effective for the 2016-2017 academic year, Dartmouth College decided to terminate the UCSD/Dartmouth Exchange Program.
We are saddened by this loss of opportunity for students at both campuses, as it has been an enriching and vibrant program. We thank our colleagues in Housing and Dining, Admissions, Financial Aid, Registrar's Office, and Residential Life for their hard work over the years to make this opportunity available to our students. We also thank and appreciate the support of academic programs and departments on this campus in utilizing Dartmouth coursework to fulfill major/minor requirements.
 Questions?  Email us at dartmouthexchange@ucsd.edu
Useful Links